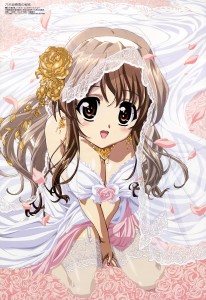 Heyos Everyones!
Alrights. I know time hasn't been on my side lately. I've kinda left things as they are, and it doesn't necessarily help my case that I haven't posted these past few weeks. However, I'm back and I plan to post some more reviews and impressions up this week. This week is also the begining of classes, so I'm sure I'll have some more motivation to get up and get stuff done!
My last Tales review for some time will be the sequel toTales of Symphonia, and I still haven't determined what my impressions post will be about. Perhaps I'll actually make some videos to accommodate these posts, but again, these decisions haven't been made yet, so I can't say exactly what I'm going to do. I really don't have much to say about life right now, as all I've been doing is going to work and watching random youtube videos. Some anime has been watched, such as Sword Art Online, Hyouka, Who is Imouto?, and Dog Days!',but nothing exceptional has occurred these past few weeks.
Perhaps I'll have more to say tomorrow or Tuesday, after classes are over. I'm happy to say this is my last year at a Community College, now that I finally have more issues settle d and accounted for. Anyways, look forward to the upcoming content, and enjoy the week!
-Ace