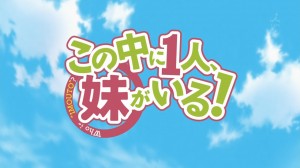 (This review may contain spoilers for the following series. If you have not seen the series before, please exercise caution before viewing this post. You have been warned.)
There were few shows that found my interest this past season, but this one somehow caught my radar with its art style, and with the fun-loving feel of the OP and the mystery aura of its story, I was easily hooked into watching the series. Is that a regretful decision? For now, I won't say, but I can say that this series did hold some unique traits that not only pander to the younger generation, but also contains a decent story to hook older audiences.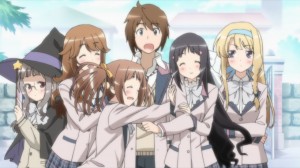 Story has always been a huge part of anime for me. If the series contains any trace of a decent story, one that not only sets up the stage for comedic elements but also pushes the series forward, it generally catches my eye and piques my interest enough to continue watching. When I first began this series, I was under the assumption that this series would follow the conventions of a harem or comedy show. While the show largely borrows ideas and aspects from harem and comedy series, there lies an undergoing story that moves the plot along. In addition, the air of mystery gives the viewers reason to continue watching. Perhaps it's just my preferences, but I hate leaving mysteries behind and I have to know whether the story proceeds in the direction I anticipate.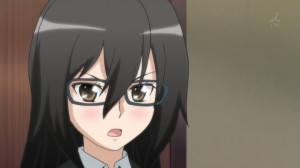 Kono Naka ni Hitori Imouto ga Iru, or My Sister is Among Them!, proudly comes off as a harem series with little details to keep you watching. Using the generic plot progression of a young man finding a wife within his last few years at school, the stage is set and the story can move forward. Or so they believe. During the first episode, the reveal of a younger sister, unknown to himself and the world, who just happens to want to marry this fine gentleman.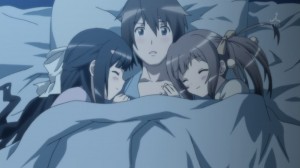 The story follows Shougo Mikadono, thrust into a new school to find the love of his life. During the next few days, he meets his potential soul mates: Konoe Tsuruma, Miyabi Kannagi, Rinka Kunitachi, Mana Tendou, and Mei Sagara. One of which just happens to be his sister, and while he doesn't know who the mystery sister is, he boldly claims he will not be found loving his sister as a wife. I think this aspect to the main character greatly improved my impression of him, as it seems more shows today would promote such values as incest. In fact, I'm sure most people don't share my idealism of such values, and are disappointed with this outcome. Regardless, the series follows multiple phases, and progresses as a decent pace. After introducing each of the characters, we are also introduced to Mister X, a woman posing as a man to assist Shougo in his endeavors. While I could go on by listing reasons why she is best girl, I feel that it would be best to move forward and continue with the petty story.
This show teases at the fact that nobody knows who the sister is, and constantly leads to false accusations and endings that leave the viewer wanting more. There are bullshit excuses thrown out to give reason as to why Shougo was led to belive that this particular character was his sister, and once those claims are acquitted, it's off to another girl that leads him on to believing that she's his sister. Rinse and repeat for a couple episodes, and you've got the first half of the series.
The second half starts off with the big reveal of his sister(?), someone who wasn't even a part of the original cast. This person, Yuzurina Houshou, comes out of nowhere and seems to put everything at ease, but once a big scandal begins to reveal itself, it's once again proven that the search has yet to be concluded and the sister has yet to be caught. While I enjoyed this red herring, there were way too many questionable actions, mainly performed by the hidden "real" sister. Why the hell did the "real" sister hide while the "fake" took on this relationship? By doing so, and bitching how she wants to marry him even though she barely knows him and hasn't seen him in ages, (Why do these sisters in anime want to jump straight into incestuous relationships? He sat there claiming he would love to love her as a sister, or in other words, a good happy family relationship. RAGE) she puts Shougo and his inherited company at risk due to a potential scandal. The actions behind some of these characters are ridiculous, and while it moved the main story along fine, the character progression suffered greatly.
As for the music, I really can't remember the BGM of this series, but the OP and ED for this series are pretty catchy. The OP catches the viewer's attention and introduces the main heroines of this series, while promoting the main premise of the story. The ED, while still poppin' and rockin', gets the viewer excited and ready to watch the new episode. I really enjoyed both themes, and if anything, they got the overall music down pat.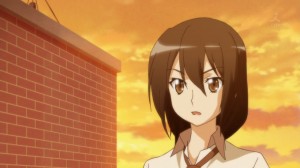 Honestly, I really enjoyed the main premise of the series. A harem series that contained a sister with a protagonist who didn't want to bang his sister. I really respected this side of the show, and the only aspects I really thought fell flat would be the character progression and development. The characters felt flat and uninteresting, and the decisions performed by these characters often appeared pointless and unreasonable. I'm happy the series successfully concluded, and revealed the big question every viewer was asking, the ending could have been so much more. The series ended in typical harem fashion, and just lost the last bit of momentum it held onto. This brings me back to the question of if watching this series was a regretful decision. While I critique this series due to its lack of character development, I really enjoyed watching this series. It still contained the humor and comedy of a generic harem series, and it had its moments. It's not a series that I would deem a masterpiece, nor would I re-watch this series in the next couple of months, but I did enjoy the laughs and good feelings I received from this series. If you enjoy harem or comedy series, I believe Kono Naka ni Hitori Imouto ga Iru is worth the time. The art is decent, the music fares well, and there does lie a small intriguing mystery that can push you to conclude the series.
-Ace