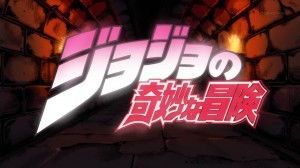 I've heard a lot about JoJo's Bizarre Adventures throughout my time, and now that the anime series has finally begun airing, I finally have the chance to view this spectacle myself. With all that I've heard, I really had no idea what to expect in this series. However, I really think that this series has many qualities that characterize this show, and I can see how this story fares so well due to its uniqueness and story-driven plot.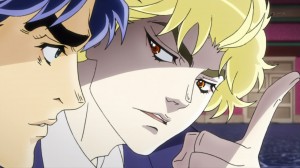 After watching this first episode, I can honestly say I am fascinated by the series. The rivalry between Dio and Jonathan, the connections between the Brando family and Joestar family, and the amount of character development in this series is superb. Just in this first episode alone, you can easily see how a story was formed between these two characters, and the development Jonathan goes through to match his new "brother." While I didn't find Jonathan to be the best character near the beginning, as he appeared a whiny, unappreciative brat, I later found appreciation for his character as he grew and evolved throughout this episode. To develop a character in such a short amount of time just demonstrates how much detail was put into this series. I haven't read the manga, but from what I've heard there was much more time to develop on that medium, and I can only begin to imagine how detailed and vast the manga must be.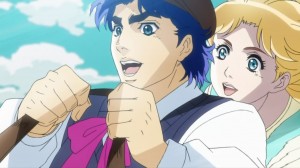 Animation-wise, I can easily say I was deterred after viewing photos of the series. The unique characteristics the animation holds definitely give meaning to the name of the series, and while the story alone proves to be wacky enough, the animation definitely struck the nail in the coffin to the word 'bizarre.' While it took a few minutes to get into the animation, once the story began to rev up I was able to cast my doubts aside and appreciate the series for what it truly was.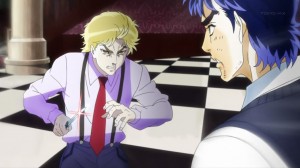 The OP, which arose during the second episode, gave a wacky and zany impression on what was in store for future episodes. Just watching the OP gives me the 'bizarre' feeling implied in the title, and the ED, while not amazing, doesn't detract from the series as a whole. In addition, the use of foreign bands to perform the songs only added to the experience, as the setting of the anime lies outside of Japan.
While the series has only just begun, the vibes revived from this series were phenomenal, and I greatly look forward to future episodes. If you were on the fence about this series, definitely give it a try and don't laugh it off until you've finished at least one episode. There's a reason why Jojo's Bizarre Adventures has such a vast following, and if the fan-base doesn't expand to unspeakable territory, I feel this series can hold its own during the upcoming season(s).