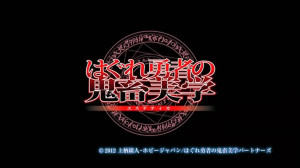 (This review may contain spoilers for the following series. If you have not seen the series before, please exercise caution before viewing this post. You have been warned.)
Oh man, it's great to actually have time to watch anime again. Of course, it's only fair to start off with a bang, and begin my new batch of impressions with an awesome, kick-ass show entitled Hagure Yuusha no Estetica. Baring resemblances to Ichiban Ushiro no Daimaou and Hyakka Ryouran Samurai Girls, the show follows a hero who goes by the name of Akatsuki Ousawa as he leaves the world he was summoned to and returns to his home world. While most stories begin with the summoning of a hero to save the world, this story begins with his departure, and upon arriving back in his own world, it becomes apparent that 'Heroes' are summoned often, and while many do not return, the few that do are sent to a school called Babel, where they can learn to control their new skills as 'Heroes' and adapt to the world with their new found powers.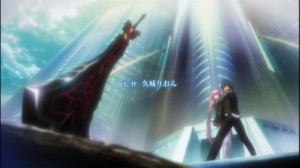 The general idea behind this series piqued my interest early on, and it only helps that there is more behind the story than just the setting. First off, the main character, Akatsuki Ousawa, isn't just a returning hero. He is unable to use magic, but his overall skill level is tremendous. Second, he brings the Demon King's daughter with him to his world in guise of his younger sister. From the beginning, Akatsuki already has multiple targets on his back, ranging from the kingdom he saved before the series began, to the Babel Academy Student Council. The main characters in the series then range from the Demon King's Daughter, named Ousawa Miu, to class clown Chikage Izumi, to Vice-President Haruka Nanase. Together the cast encounter wacky hi-jinks in their daily abnormal high school lives.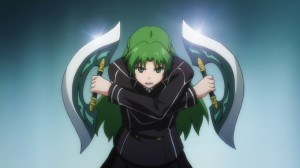 Unfortunately, this series lacks in character development and characterization. While every character contains some element to personalize them, they don't really stand out among the crowd and honestly, don't evolve and develop as the series progresses. However, it can easily be stated that this series wasn't created to cater to lore fanatics and well-balanced fights. Every scene is catered to demonstrating how bad-ass Akatsuki is, and how he can solve every problem using his power that never truly gets fully explained in the show. Each arc consists of Akatsuki wanting to prove his strength, playing pranks on all the pretty ladies, solve some problems by creating misunderstandings, and usually ends with a woman crying with him coming to their rescue. This isn't necessarily a terrible situation, as the show does what it intends to do. It entertains and provides great feelings to those who want a good "feel-good" show to watch. In addition, it doesn't help that the story doesn't conclude with the last episode, with a huge cliffhanger ending that begs to be filled with another season. Why can't shows end without cliffhangers anymore? A huge portion of anime nowadays end up unfinished because the companies don't make enough money to add another season, and the show suffers because of these poor creative decisions. If this show fails to bring a continuation, which I highly assume it will, I'll be disappointed yet again.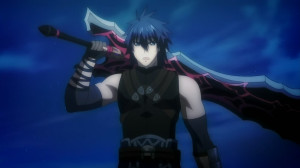 The artistic and musical aspects of this series are phenomenal. The art, while not beautiful or gorgeous by any standards, doesn't detract from the show and doesn't appear lazy. While there is an excessive amount of fan-service, considering the audience I don't view that as a huge negative. In terms of music, there aren't many memorable tracks, but there is a fantastic rendition of the main theme that plays during the 'epic' scenes with Akatsuki, and I love series that contain arrangements of the main theme as they give the scene meaning and signal an important event. However, this piece of music was definitely overplayed, appearing in nearly every episode. Speaking of main themes, the OP for this series really brought the mood of the series, generally pumping the audience up for the episode with action and rock. There was some surprising foreshadowing in the OP that really caught me off-guard, and really made me appreciate the OP even more. As for the ED, a completely different approach was used, but I think it fits. It uses a catchy little song and consists of material focusing mainly on Miu and her relationship with Akatsuki. Overall, the OP/ED aren't the greatest, but they do provide the correct emotions and enhance the series as a whole.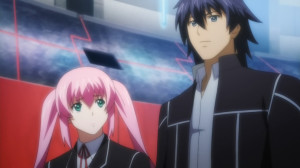 In all honesty, Hagure Yuusha no Estetica gives a great time for those looking for a bad-ass main character, tons of action, and some quick laughs. There's a lot of fan-service, and doesn't provide the best storytelling, leaving some loose ends both in the middle of the series and the end, but provides some entertaining experiences for those bored of today's moe overload.
-Ace