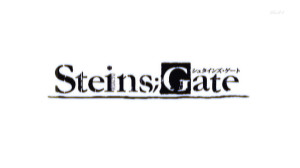 (This post may contain spoilers for the following series. If you have not seen the series before, please exercise caution before viewing this post. You have been warned.)
I was going to do a Lasting Impressions segment of Steins;Gate, but I feel that my opinions would be too strong for a series I enjoy as much as this. Therefore, I have posted my reasons as to why I love the series as much as I do.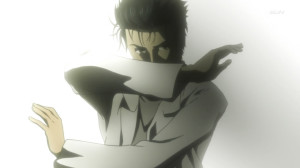 Some may wonder why I have such a fascination with the series Steins;Gate. After all, the main heroine is commonly used for purposes of my avatar or header. However, before I can begin on the amazing reasons as to why I enjoy Steins;Gate so much, I have to explain some details about myself.
I have always liked the concept of time travel, and even as a little kid I dreamed about traveling through time and controlling the concept of time. Due to this fascination, anything to do with time travel interests me. Of course, most mediums fail to capture an agreeable concept of time travel, such as the movie Looper, whereas some grasp the concept well by establishing rules and restrictions to actually create a story worth telling. Steins;Gate performed this task well, and greatly enhanced the reasons behind following the story.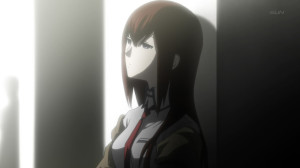 At the very beginning of the series the rules of time travel are explained and set, leaving no room for confusion or error. While they aren't explained to the viewer right away, little signs and warnings are set into place to show the rules are in place, yet not exactly explained. In addition, the way the series handles the concept is extremely well done, utilizing points and branches to demonstrate the travel of time and using a convergence meter to show what timeline we are currently seeing. What's even better is the fact that these concepts were developed by actual scientists and the series merely borrows the concept to create a story. Steins;Gate uses an already developed theory on time travel and expands upon this theory, leaving only the development on the story and how well to tie things up in the air.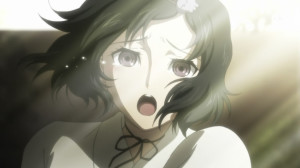 While I enjoy time travel and the concept of controlling time, there are a few other ideas and concepts that Steins;Gate utilizes to appeal to me even more. Nitro+(Nitroplus) and 5pb(Mages) write fantastic stories that are often based on real life events and set in the present time. This allows someone watching the series within a few years of release to relate with the series even more, understanding the companies, events, and conspiracies that may be referenced in the series. In addition, the series often uses suspense to confuse and anticipate the viewer, which only adds to the greatness of the series. The story is never fully understood until the final episodes, where everything is finally explained and things start wrapping up.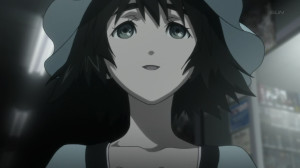 As for the characters, it increasingly becomes easy to connect and understand each one. Okabe, the main character of the series, or rather, the protagonist, often comes off as crazy and comedic. However, once things actually start moving in the series, his true personality comes out as caring, compassionate, and lost. Mayushi often comes off as bubbly, airheaded, caring, and carefree. However, one can see that she does have worries and fears, and becomes a victim to later events. Kurisu can often be described as a typical tsundere, but she does keep her hobbies to herself to preserve her image as a scientist and a scholar. This often gets poked at by the others when she references internet memes and trends. Daru is the smart computer nerd of the group, used mainly for jokes and jabs at the NEET population and internet savvy user. Moeka comes off as unfriendly, unsociable, and self-centered. It later shows that she is alone and scared due to past events, and is merely following what she has been given to believe in. Ruka gives off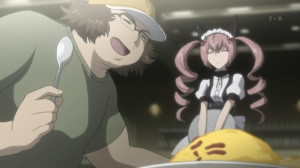 feminine vibes, yet is shown early on to be a male. Suzuha comes out of nowhere and seemingly doesn't add much to the plot, save for the few moments of confusion she gives when her words appear to make little to no sense. Once her backstory is explained, however, things begin to fall into place and her true intentions pave the way for the later half of the story. Ferris probably contributes the least to the plot, only giving little appearances at the cafe and one little sub-story in the large plot at hand. Another reason why this series bodes so well with me also comes from the fact that every character comes into play at least once. While some characters don't appear to have a greater significance, it's later shown that there was more to said character than meets the eye.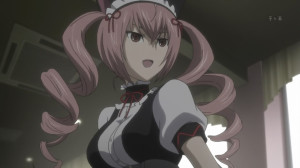 Although the story and characters make up a large part of my admiration for this series, another key factor would be the art direction. I'm not going to go out and say that Steins;Gate had the best art of the season. However, I love the art style used for this series. This goes for both the Visual Novel and the Anime, as both have such a unique style that really contributes to the uniqueness and power of the series as a whole. The art direction works wonders, and really left an impact on me.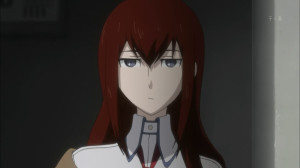 Of course, the series wouldn't be as fantastic as it is without it's awesome soundtrack. The piano tracks that play during the series are phenomenal, and I love the Opening and Ending song of the series. Kanako Ito is one of my favorite singers, and Hacking to the Gate is a lovely song. Speaking of Openings and Endings, the subtle changes between the Alpha Opening and the Beta Opening was a brilliant idea, and a neat way to change things up without being too obvious about it.
Overall, I feel Steins;Gate was an overall fantastic series. Would I consider it the best series ever? No, that would be implausible. However, Steins;Gate does fall under my favorite anime of all time, and for these reasons above, I feel that my reasoning is sound. White Fox adapted the Visual Novel amazingly, which after the Chaos;Head fiasco (Which, the VN is amazing, but the anime leaves much to be desired), was a breath of fresh air. I'm happy that they're taking the series a little further with a movie, because the characters are unique and fun, but I do fear that they may ruin some of what the series stands for if they try to add more mystery to the series as a whole. I love the series because it wraps itself up perfectly, leaving little to no holes, and for fan service purposes, I'm fine with fun, extra adventures with the cast and crew. For all intents and purposes, however, Steins;Gate as a whole should be its own separate story, boxed up and independent from future endeavors.
-Ace