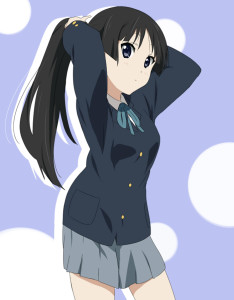 Heyos Everyones!!
This has been one crazy year, and while there have been a lot of good and bad encounters these past 12 months, it's time to pack those memories into storage and start the new year with a bang!!
But before that, it's time to reflect on the good, and bad, memories that have occurred during this wonderful year.
Starting off the year, I had begun attending classes per usual at GCC and making blog posts containing my impressions and reviews of certain anime series and games. This was short lived, as my personal life had begun to flourish and I found myself with many responsibilities that I hadn't considered before. This caused my posts to decline and ultimately cease with the occasional post every now and again. This was something I didn't have too much control over, and I was dealing with new situations that I never could have imagined before. I'm happy to have experienced these encounters, but I wish I could have controlled my posting a little more.
This also leads to my falling out with current anime and video games this year. This was the first year in which I didn't watch series pro-actively or as they aired in Japan. I used to follow series to the day they were released, and I just lost all interest in these new series as they were released in Japan. With my loss of my precious free time, I had to really consider what series I took my time watching and what series I needed to drop immediately. I took to watching series that had been on my backlog rather than watching new shows. Regardless, my time for anime and games was severely reduced, and that impacted my impressions and reviews as I had nothing to review or think about.
Fortunately, I still followed through with my travels to various anime conventions, including Aselia Con in Texas and Anime Expo in Los Angeles, both of which resulted in costly travel expenses for myself. However, my experiences at these conventions really gave me the break I needed from real life and time to find out what was going on in the world I had almost forgotten. It was my foot still in the door, and I couldn't be crazy enough to fully step outside of this familiar world to the strange beyond I know nothing of. I made tons of great friends and these experiences have definitely salvaged my mind multiple times during stressful events or occurrences.
In my personal life, things were new and great, but it was all different and something I had never experienced before. I had never thought that I would go through such tough times, nor had I foreseen myself going through such wonderful times. It truly was a roller coaster, but it was a ride I definitely would take again and I wouldn't trade my experience or memories for anything in the world. Sure, it wasn't all good, and I did many things wrong, but it was a great experience.
Of course, the whole year couldn't end on a successful note. Towards the end of the year, the world started crumbling and I had to step back through the door my foot had planted itself through. However, even that world was unfamiliar and crumbling. My wonder time had finally come to an end, and now things really need to change and I don't have a world to return to anymore. Someone pushed me out into this new, undiscovered world, and now I have to either piece the old world back together, or walk until I can find a world worth living in. Granted, I'm not alone. I've still got my experiences and those that come with them, and I've also got the memories that I will never forget. But I can no longer return to that wonderful paradise that I had once considered would be there forever. Perhaps I was a fool to think that things would forever be in my favor, but I can't say that this little stretch of misfortune will cause this year to be considered 'bad.'
2013 was an amazing year. There were events in the end that were full of misfortune, but the memories and experiences during the majority of the year were irreplaceable and I have become a better person because of it. Thanks to everyone who is a part of my life, either directly or indirectly. Get ready for 2014!!
-Ace