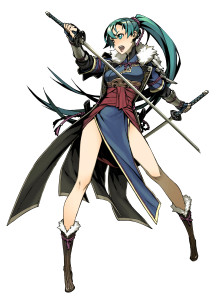 Heyos Everyones!!
Damn, it's been a long time!! How has the time flown by so quickly!? Regardless, it's already November, moving into December, and I've yet to post anything in the last few months. My apologies for that, but I assure you, I've not been slacking!!
First off, I've watched quite a few new shows this time around. Most of the shows are from my backlog, as fewer shows interest me in new seasons. But among those I've finished are Free! and Attack on Titan, and I must say, I really enjoyed watching both of those. I've also worked on Future Diary and Baccano!, and I've got tons more to catch up on. I'll consider getting my impressions posts back, but in the mean time, I have to catch up with real life and the holidays. Don't worry, things will be kickin' in gear soon enough!!
Convention-wise, this year is officially over!! Both Saboten-Con and Kikori-Con went smooth as butter, and I must say I'm extremely pleased with the progress Dowase Entertainment has made this year. We'll be kicking things off at Taiyou-Con 2014, so if you happen to be in the area I'd be more than happy to meet you or have you attend one of our awesome panels!! Details about our panels can always be found at our homepage, so feel free to check it out!!
The gaming scene is quite a ruckus with Persona news coming around, and I must say, I'm rather excited. I'm really hoping not to get anything extreme with Persona 4, as I feel that the game needs to close and we need a new chapter in the Persona universe. Not to say I don't like Persona 4, but I've played it more than I need to for now. In regards to the Tales of… series, some may know that I am the Programming Director for Aselia Con in Irving, Texas. On that note, I'd like to point out that Aselia Con is having its second year and we've got tons of awesome reasons for you to come out and meet others who love the Tales franchise and have loads of fun!! David Vincent, VA for Richard in Tales of Graces will be in attendence and with a successful year we'll have even more goodies in the following years, so help out by attending or donating at http://aseliacon.com !!
While I'm making a post now, I've not officially returned to blogging. I'm currently in the transition to a new university, and I won't have as much free time until I get everything sorted out. I'm extremely happy to say that life is moving on and I can move with it, rather than get stuck in the dust wondering why I'm in the same spot as before. So for now, I'm happy to say that things are turning out awesome, and I hope to post more as the year rolls around!
-Anthony 'Ace'
Dowase Entertainment Administrator