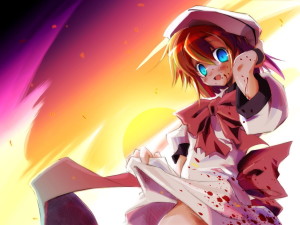 Heyos Everyones!!
Wow. It's been awhile since my last post, and damn, have things gone up and down these past few weeks. Not only is my personal life demanding, even with the absence of school, but the con season is starting and my wallet still hasn't recovered from my last outing. To top it off, this anime season looks amazing, and I've yet to see any of it.
First off, in terms of conventions and what-not, Phoenix Comicon was fantastic! We held our panel, Name that Anime Tune!, to great success, even with the lack of time and computer screen (My laptop screen is broken and caused some slight problems during the panel). However, I've also noticed some improvements to be made for our panel at Saboten 2013, should we be accepted, and I will probably give out the original program if enough people want it. I just want to improve and ease some tasks within the program, which will reduce the chance of human error and allow people to have a better time. That was my intention when I first programmed the panel, and I intend to improve upon that idea as much as possible.
Anime Expo 2013 is coming up around the corner, and while I don't have too much to look forward to (Other than Porno Graffiti, which is pretty cool, and the usual convention getaway), I know that it's going to be a blast being away in L.A. once again!! As for anime this season, I have a lot of shows that I want to try, but due to time constraints and real life issues, I've yet to take the time to watch them. Soon though, I shall finish the series I started and write impressions once again! Then the blog will bustle and thrive!! (Not really, but I can dream, no?).
I really don't have much else to say, but I wanted to make sure people know that I'm not down and out yet, and I will come back once time permits me to. It's been rough, yes, but with every event one endures they thrive and improve their ideas, views, morals, and beliefs. Until next time,
-Ace