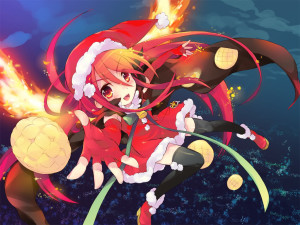 Heyos Everyones!
Wow, time is really going by, and I've yet to catch my breath with all the crazy shenanigans going on lately. Not only do I have school and work, but events have been coming up in life that have severely impacted my activities with anime, manga, and gaming. Not to say it's necessarily a bad thing, but it's definitely not something I'm used to. Regardless, that's why there hasn't been a post on here for over a month, and why I've yet to add any new reviews or impressions. In other news, this weekend marks the very first 'Tales of' convention, taking place in Ft. Worth Texas! Aselia-Con will be giving fans of the Tales series a place to gather and share the love for this fantastic series, and Dowase will be there holding two panels. Come on down and check it out if you happen to be in the area, as it'll be fun all around! Additionally, Dowase Entertainment will be attending Con-Nichiwa in Tucson, AZ on the weekend of the 22nd, so feel free to stop on by then and have some fun! It'll just be the usual 'Name that Anime Tune!' panel, but it'll be a lot of fun and I hope anyone who is going to the convention can make it and check us out!
In other news, I just completed Sonic the Hedgehog 2 for the first time in my life. Well, kinda. I've beaten the game without collecting all the emeralds before, but only recently have I beaten the game with all the emeralds and in one sitting. I must say, Sonic 2 is a fantastic game, and I really understand now how people claim it to be the best in the series. I've always been the bigger fan on Sonic 3 and Knuckles, mainly because the game was just so damn fun and I have so many experiences with it. But, I can beat the game easily without even trying and getting all the emeralds just isn't as rewarding anymore. When I finally beat that seventh special stage, I felt content. I felt like I had earned the right to play as Super Sonic, and the feeling was oh-so-satisfying. The Genesis Sonic games are the best in the franchise, and they will forever hold a place in my heart.
Well, it's about time for me to head off. Have a fantastic time, and if ya happen to be in the Ft. Worth area, come visit Aselia-Con!
-Ace