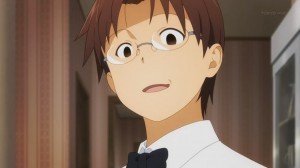 I usually don't make posts on the weekend, and I think the main reason behind my posting today is the time since my last personal 'blog' post. It's hard to think that my past few posts have been regarding anime, but that's what happens when the season ends and multiple series finally come to an end. I'm absolutely looking forward to the end of Sword Art Online and Hayate, as I already have some strong words for those series that I won't dwell into today.
I finally registered for classes next semester at Glendale Community College, and hell, I don't know if I'm looking forward to the work load next year. Not only do I have Calculus 2 and Physics 1, but I've got to take Summer classes just to make it in time to transfer to Northern Arizona University in time for the Fall semester. While this won't be an easy six months, it all concludes on the weekend of July 4th, which means Anime Expo will be the celebration time that allows me to relax and enjoy myself. While this seems far away, it's scary knowing that it'll be here before I know it, and it's time to start getting preparations ready for my trip to L.A.
Speaking of conventions, Anime Kaigi is less than two weeks away, and I'm still holding my Guess that Anime Tune panel that Saturday. If you happen to follow this blog and live near Flagstaff, AZ, come check it out! I've got some sweet prizes to give away to those who know their stuff about anime openings, and if you happen to reference my rant about why anime openings are amazing then I'll find something awesome to give ya.
Well, I think I'll start watching some anime series again, now that I feel things are starting to slow again. While I still need to finish Little Busters!, I've completed most of the game, and only have two characters left. It's a fantastic VN, and it's up there with Clannad. Now if only KyoAni would stop being ca$hcows and actually animate something that's not slapstick comedy. J.C. Staff wasn't the studio for Little Busters!, and I don't think they will be able to change my opinion on this, after seeing the first three episodes.
I think that's about it for today. Being a weekend post, there really wasn't meant to be much substance today, just some ideas and information popping out of my head about this previous month. While I don't have any posts ready for next week, I'll get some ready so next week will be just as action-packed as ever!
(Next month will be an interesting project; I have a concept that I will be implementing for the month of November and I hope it will be as much of a success as I anticipate.)
-Ace