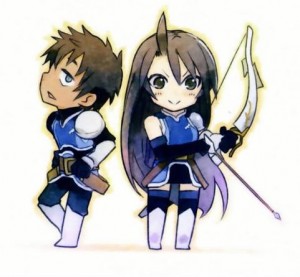 Heyos Everyones!
Not much has been going on, but it has been awhile since I've last posted here, and I figure I should make up for it. I've been playing way too much Tales of Vesperia, and I've been watching less anime as a result, which means I have a ton of anime on my to-watch list now. Of course, it's not terrible, as some of the anime these past two seasons have been quite tasteless at first glance, and I can't say I'm all that interested to watch them. But, the time will come when I find myself catching up on those series.
I've been watching Namco Bandai's livestream, and I can't say I've been impressed. This E3 hasn't been all that exciting, and I'm rather peeved that Namco hinted that something was going to be announced related to Tales, but will *most likely* not deliver on those promises. Ni no Kuni looks splendid though, and I actually might find myself spending money on that along with Persona 4 Golden.
Other than that, I've been preparing for AX2012, and getting ready for another year of school. Hopefully I've find more to talk about in the near future, with the convention behind me, and perhaps find the time to complete another review on Tales of Vesperia. Until then, seeya!
-Ace