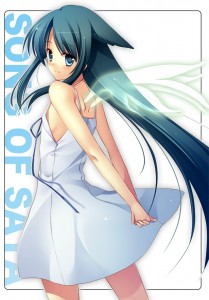 Heyos Everyones!
It's been a busy February, and hard to believe that it's almost over. Luckily, it's a leap year so I get one extra day to work or do nothing, as which seems to be the case 90% of the time. I haven't even really caught up on which anime I'm going to be watching this season, even though it's over halfway over. Gah. Anyways, I'm still trying to finish Final Fantasy XIII, as I've already purchased XIII-2 and still have it sealed and ready to play. Tales of Graces-f comes out this March, and I want to finish FFXIII before I start another RPG. Hope that works out, but I'm not going to be too optimistic.
In terms of the website, I'm attempting to revive the site with a new layout and design. This will carry over to the blog, to seamlessly blend the two together once I actually have a site up again. I do have something I plan to put up soon, and although it has nothing to do with games, it does have something to do with music and anime. It's nothing big, but maybe with something up I will have more motivation to do something with the site.
Again, I haven't really been watching too much anime. I've built a new computer and have been using that, and I don't want to stress it out as it gets really loud under load. By that, I mean the Power Supply, which gets unreasonably loud and gives me reason not to go with OCZ again. I'm replacing it with a Corsair PSU, and that should be the end of my troubles. Anyways, I will be working on the site the next few days, and in turn, should have something to show for it at the end of the week.
-Ace