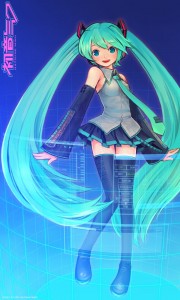 Heyos Everyones!!
Man, where did the month(s) go??  Although I haven't done much, a lot has happened in these two months, and it just keeps going on! Although I'm out of school, I'm attempting to pick up more hours at my job, as AX2011 is coming up!! I'll be there, and I've already got my tickets for the Hatsune Miku concert, which is going to be amazing!! I absolutely cannot wait, and it's really the only thing coming up that I really am anticipating.
On another note, the anime this season has been amazing! I'm currently watching C, Ano Hana, Denpa Onna, Hoshizora, Dog Days, Hanasaku Iroha, Hidan no Aria, Steins;Gate, The World God Only Knows II, and Tiger and Bunny. This season I'm watching so much, as I've never watched so many series in one season. But the anime is so great, I can't help it.
I also recently traded in my old Xbox 360 and walked out with a PS3 for 29.36! I already have 4 games which I ended up not paying anything for, and now I have a blu-ray player to watch my favorite anime with. I've been playing 3D dot game heroes, and plan on importing Tales of Vesperia and some VN's for the PS3, as it's region-free and an amazing console, so I can't wait to play it more. I also have a PSP, and Project Diva is one of my most played games 0n the console. Unfortunately, even though I'm not taking the time to post here, I still have a ton of games and anime on my backlog, and I really need to organize and step my game up so I'm not so behind when I go to the expo.
Well, that's all for this time. I can't say when I'll be updating again, but I believe I'll be reporting more when I'm actually at the expo, as I'll have a lot to talk about then. Especially the Miku concert.
Seeya's,
Ace