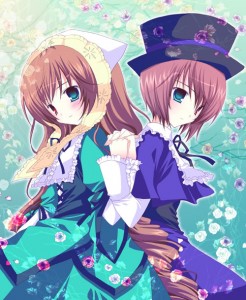 Alrights! It's now the middle of the second semester in school, and I can honestly say some of it has dragged on way too long. Oh wells, this week will give me plenty of time to work on any projects I have, although I think I'll spend more time watching anime and playing Persona 3.
I don't have much else to say about the website progress or Dowase. I've been following too many anime series and playing too many jRPGs to keep track of anything else. Work and school take up the rest of my time, and I end up sleeping more than I would like. The spring series is almost here, and I really can't wait. Although I love the current series (Gosick, Kore wa zombie desu ka, Fractale, Dragon Crisis, Yumekui Merry, and the continuation of Star Driver and Bakuman), I really want to see the next season of "The World God Only Knows". Not to mention, Gosick will be continuing for the next season, which raises my expectation for the next season.
I've been really late to the company Atlus. I've played a few of their games (Tail Concerto, Rivera), but after playing the Shin Megami Tensei series (Persona 3, Devil Survivor), I've really begun to appreciate the work put into their games. I used to be a big platformer gamer, but after playing jRPGs for some time now, I've broadened my experience with more than just 2D platforming. I consider it good that I quit playing Maplestory, or I may have lost all my time in the world!
I know my post may be late, but I still can't believe the disaster that has struck Japan. It's a terrible, horrible tragedy and I can only hope for the best of the people living there. It makes you think how fast something can go from just fine to panic and chaos. My regards go out to everyone living and visiting Japan, for dealing with such a disaster.
This has been my March post. Maybe I'll get another before April xP.
-Ace