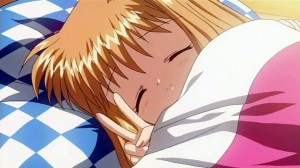 Heyos Everyones!!
It's been a rough week, and I'm still coping with everything. It wouldn't be so bad, but waking up at 5:00 in the morning isn't something I'm used to, so I'm usually tired immediately after work, and my schedule gets all messed up. Anyways, it's a new week, and a new song has been added to the sidebar. The last song was Tori no Uta by Lia, the OP for the visual novel AIR. I rather enjoy this week's tune, although I really didn't know that this song existed as an actual song until recently.
Two reviews will be up before the end of this week, as I really don't care about timing and whatnot. I should have a new game review, and an anime review from a series I've seen in the past. I hope it'll add a spin on reviews that you'll all enjoy. On another note, there haven't been any new tracks for MapleStory, but I do need to fix some links as they aren't working at the moment. In addition, the full pack will be updated soon enough.
You won't find any new videos on my youtube account because my soundcard decided to die on me recently. Onboard Audio just doesn't compare to the quality of an actual soundcard. Yet again, I don't know how good my onboard audio is, but whatever. I hope you all enjoy this wonderful Saturday! Sleep in if you can, as it's very enjoyable!
-Ace